I'm SEW Excited To Share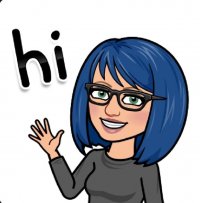 Good Afternoon Newsletter Universe

I (WEBGIRL) have so much to share with you all :) First and foremost as you can see by my new picture I have decided to change up my hair color. As many of you don't really know much about me, this is totally normal in my realm, I have had almost every hair color under the rainbow for the past couple of years. I just love creating new colors and trying them out, so there a small blurb of info about me :)



Now on to the good stuff!!!!!

Elizabeth will be traveling to visit her youngest sister Margie for a couple weeks in California!!!! (STAY TUNED for some Sister Selfies, per my request of course). So in lieu of her absence I've been working hard learning how to ship all her products on each platform while she is away.

We are having a

PRE BLACK FRIDAY SALE

going on

NOW until NOVEMBER 28TH @ MIDNIGHT

. This Sale is for the Premium Quilters Cotton and is $5/Yd. Click Here For The Sale.

We wanted to also say Thank You to those who have purchased our "SWEET" Hand Dyed Wools. If you haven't had a chance to see them they are on The Wool Shop@ SavvyQuilters.com.

They are Also on our ETSY SHOP....And because they are just to sweet not to keep posting... here they are


Elizabeth has also finished some shop samples

This Beautiful Rag Quilt


Teeny Tiny Collage Pattern- Vintage Trailer ( Click Here to Purchase Pattern)
INTENSE WASH TESTS ( This is written by Elizabeth)
After using Inktense Pencils for a while I decided I needed to do wash tests. I have completed about 15 wash variations to test the "Permanent" nature of the Pencils for myself.
My initial reaction to the tests results were disappointment…so I did many more tests, talked with Dee, and evaluated the results.
All of the wash tests were performed in my washing machine.
Things that effected my samples.
The samples were not a completed projects and didn't have batting or backing. The effect of this is that both sides of the test sample were subjected to laundry soap and agitated which removed more of the Pencil Ink than it would normally do.
Dee reviewed my Coloring technique and determined I am not putting enough Pencil Ink on my projects and I should be working in layers and activate the ink on each layer.
During the Waco Show Dee made several samples with three different activation methods. She used Water, Aloe Vera, and Fabric Medium.
The results of the Wash tests on these were much better (Note they were still affected by the incomplete nature of the samples.) and I am pleased with the results.
My conclusions of the most important steps are:
Prewash your fabric and air dry (this is also recommended by Crabapple Hill Designs)
Use enough Ink Pencil for good coverage
Activate Ink of each layer you apply
I will be using a lightly applied layer of Fabric Medium
Press your completed project to help set the colors in the fabric
Below are the three washed samples all were washed in cold water with a mild detergent. I have decided all of my future projects will be washed with Orvus Quilt Soap.
The photos have not been modified except to straighten and crop them and were not taken by a professional.
COME AND SEE US AT ANY OF OUR QUILT SHOWS AND REVIEW THE COMPLETE TEST SAMPLE BOOK
NWGCI2: Not prewashed, activated with Water, Pressed before washing, Gentle Detergent, Cold Water



PWGCI2: Prewashed, activated with Water, Pressed before washing, Gentle Detergent, Cold Water
PAGC2: Prewashed, activated with Aloe Vera, Gentle Detergent, Cold Water


NAGCI2: Not prewashed, activated with Aloe Vera, Pressed before washing, Gentle Detergent, Cold Water
NFMGC2: Not prewashed, activated with Fabric Medium, Gentle Detergent, Cold Water



NFMGCI2: Not prewashed, activated with Fabric Medium, Pressed before washing, Gentle Detergent, Cold Water
Click Here to Order Fabric Painting Medium for your Projects.

Hope all this information is useful in your own projects. As always any questions or concerns please reply to this email.

-WEBGIRL